Home--News
University of Michigan Reinstates Coca-Cola Contract Prematurely

Allows Coca-Cola Funded Group to Design Investigation
For Immediate Release
April 12, 2006

Contact:
Amit Srivastava, India Resource Center T: +1 415 336 7584 (US) E: info@IndiaResource.org San Francisco (April 12, 2006): The University of Michigan has acted prematurely and recklessly in reinstating Coca-Cola's contract with the university. On April 11, the University of Michigan accepted a proposal from the Coca-Cola company which ostensibly paves the way for a third party, independent investigation into the issues surrounding Coca-Cola in India and Colombia. The Coca-Cola company has proposed that an organization in India that it funds and sponsors, The Energy and Resources Institute (TERI), "develop a transparent and impartial independent third party assessment of water resource management practices at Coca-Cola company facilities in India," according to the company's letter to the university. The University took just one day to study Coca-Cola's proposal, and did not consult with the student coalition who have led the campaign at the university or any groups affiliated with the campaign who have engaged with the university in the past. Reinstating Coca-Cola's contract does not absolve the Coca-Cola company of the crimes it is accused of in India- creating severe water shortages, polluting water and land around its bottling plants, distributing toxic waste to farmers, and selling drinks in India with extremely high levels of pesticides. "Accepting Coca-Cola's recommendation that TERI - a group that is sponsored and funded by Coca-Cola - develop the independent, third party assessment of water issues in India is baffling," said Amit Srivastava of the India Resource Center, an international campaigning organization working directly with communities in India affected by Coca-Cola's practices. "Communities in India welcome an investigation into Coca-Cola's practices in India. In fact, we expect a rigorous investigation by a prestigious university like the University of Michigan. But allowing TERI, which clearly has a mutually beneficial relationship with Coca-Cola, is neither fair, independent or third party. By agreeing to Coca-Cola's choice of the group in India to develop the investigation, the University of Michigan is making a mockery of the concerns being raised by communities in India," said Srivastava.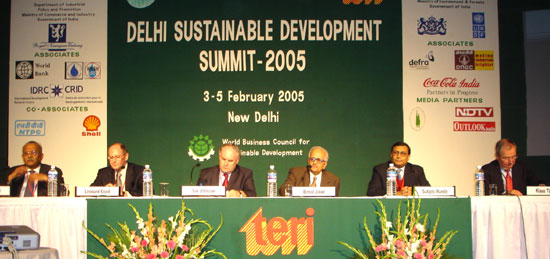 Coca-Cola India Sponsoring TERI Conference in 2005

The Coca-Cola company in India has been implicated by state government authorities for causing severe pollution around its bottling plant in southern India, and government authorities have also found steep drops in groundwater levels in northern India since Coca-Cola started operations. "The University of Michigan need only look at the rulings against the company by government authorities in India, which has effectively shut down one of the company's largest bottling plants in India, to conclude that Coca-Cola engages in unethical practices. By allowing Coca-Cola to choose its investigator, the University of Michigan is conceding that Coca-Cola is not bound to abide by or come under the authorized structures of any country and are above national laws and authorities," said C.R. Bijoy of the People's Union for Civil Liberties. Research into the relationship between TERI and Coca-Cola raises serious questions about TERI's ability to develop a third party, independent assessment:
Coca-Cola India is an active funder of TERI in India, and Coca-Cola India Limited is an official sponsor of TERI.
TERI has conducted various projects for Coca-Cola India, including "Strategies for Sustainable Water Resource Management in Sub Watersheds around Kaladera village" (2005), "GIS-based diagnostic study for assessing availability and quality of water resources to address community concerns using a watershed approach" (January 2006), and "Mobilizing youth for water conservation (MY WATER)" (April 2005).
In a survey published by TERI in December 2001, TERI names Coca-Cola as among the most responsible companies in India.
TERI organized Earth Day 2003 with the "support of Coca-Cola", and during which Sunil Gupta, Vice-President for Public Affairs and Communication at Coca-Cola India was a keynote speaker.
TERI organizes the Delhi Sustainable Development Summit annually, of which the Coca-Cola company is an Associate Partner. TERI even included Sanjiv Gupta, President and CEO of Coca-Cola India in their press release dated February 4, 2005.
TERI's website carries a lengthy interview on Coca-Cola's sustainable programs with Sunil Gupta, Vice-President for Public Affairs and Communication at Coca-Cola India, dated April 30, 2003.
TERI's website carries a lengthy interview on Coca-Cola's "commitment towards addressing environment and water concerns" with Jeffrey Seabright, Vice President, Environment and Water Resources, at Coca-Cola company, dated March 15, 2006.
The University of Michigan had suspended its business relationship with the Coca-Cola company on January 1, 2006 because of the company's failure to agree to a protocol for an investigation into issues in India and Colombia. The move to suspend Coca-Cola came in response to student concerns over Coca-Cola's abuses in India and Colombia. The University of Michigan had convened a Dispute Review Board (DRB), an advisory body comprising of students, faculty and administrators to look into the issues in India and Colombia. After deliberating for 10 months, the DRB recommended in June 2005 that the Coca-Cola company be placed on probation. The DRB also laid out a series of benchmarks that the Coca-Cola company would have to meet in order to show that it was acting in good faith to solve the problems in India and Colombia, including agreeing to an independent, third party investigation into issues in India and Colombia. Specific details regarding TERI and Coca-Cola's plans for assessing the issues in India will only be finalized by April 30th, according to Coca-Cola. For more information, visit www.IndiaResource.org ---ends---