Home--News
Coca-Cola Not Disclosing Full Liabilities in India, Misleading Shareholders

Company Challenged at Shareholders Meeting
For Immediate Release
April 19, 2006

Contacts:
Amit Srivastava, India Resource Center +1 415 336 7584 E: info@IndiaResource.org
Andrea Samulon, India Resource Center +1 734 945 9146
Camilo Romero, United Students Against Sweatshops +1 510 717 4227 Wilmington (April 19, 2006): The Coca-Cola company came under attack today at its shareholder meeting for not disclosing the full extent of the liabilities the company has incurred in India. Literally thousands of people across India are facing severe water shortages and contaminated water and soil- directly as a result of Coca-Cola's bottling operations. The Coca-Cola company also sells products in India with extremely high levels of pesticides, products that could never be sold in the United States or European Union because they do not meet the minimum safety standards. "The Coca-Cola company is culpable and therefore liable for the serious problems in India that are affecting the lives and livelihoods of thousands of people," said Amit Srivastava of the India Resource Center, an international campaigning organization that works directly with communities campaigning against Coca-Cola in India.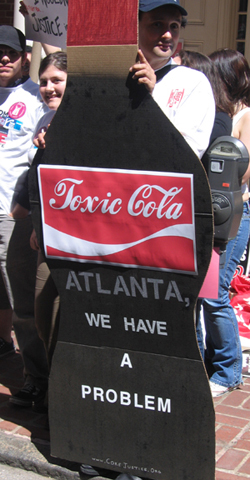 Protest At Coca-Cola Shareholders Meeting Credit: Amit Srivastava

"The longer the Coca-Cola company waits to genuinely address the issues in India, the larger their financial liability becomes. It just doesn't make good business sense," said Srivastava, who also spoke inside the Coca-Cola shareholders meeting and presented statements from Indian communities. Sales in India did not account for the Coca-Cola company's reported profits in excess of US$ 1 billion in the first quarter. According to the company's report on the latest quarter earnings, volume sales declined again in India, for the third consecutive quarter. One of Coca-Cola's largest plants in India, in Plachimada, has been shut down since March 2004 because the community-led campaign succeeded in moving the government to take action against the company. Now that the plant is shut, the community has shifted the focus of the campaign, insisting that Coca-Cola must compensate community members that have been affected by Coca-Cola's operations. In north India, over 20 villages have come together to organize an indefinite vigil against the Coca-Cola bottling plant in Mehdiganj, demanding that the government shut down the bottling plant before the summer months, Coca-Cola's peak production season. The village council of Mehdiganj has also cancelled Coca-Cola's license to operate. In the state of Rajasthan, well known for its deserts, over 50 villages are experiencing severe water shortages as a result of Coca-Cola's bottling operations in Kala Dera, near the city of Jaipur. The Central Ground Water Board, a government of India agency, has confirmed that water levels have dropped 10 meters in just five years since Coca-Cola began operations. Coca-Cola's proposed bottling plant in Gangaikondan, in the southern state of Tamil Nadu, has also run into trouble. Thousands of community members have protested the proposed facility, insisting that it will result in water shortages and pollution, as in other parts of India. The community-led campaigns in India have found tremendous support internationally, and student campaigns in US and UK colleges and universities have grown significantly. The Coca-Cola company has been placed on probation at the prestigious University of Michigan, and also removed from New York University, the largest private university in the US. In India, the Coca-Cola company suffered a major setback last week when its primary spokesperson, Bollywood actor Aamir Khan announced that he will be looking into the issues surrounding Coca-Cola in India. Various studies conducted by government and independent agencies have confirmed community concerns of over-extraction of water and pollution by the Coca-Cola company. Coca-Cola has responded to the campaign by embarking upon an ambitious public relations exercise, trying to cast themselves as stewards of water and suggesting that rainwater harvesting programs can somehow replenish their entire water use – assertions not backed up by any facts whatsoever. "The facts surrounding Coca-Cola's operations in India speak for themselves, and no amount of public relations by the company can make the problems being faced by Indian communities go away," said Srivastava. "We suggest that the Coca-Cola company rethink its approach to the campaign in India, and come up with genuine ways to address the problems. Acknowledging that it is part of the problem is the first step. Until then, the campaign to hold Coca-Cola accountable will continue to grow and cost the company millions in profits as well as tarnish their image immensely." For more information, visit www.IndiaResource.org Images available upon request. ---ends---