Home--News
Major Protest Against Coca-Cola in India

Over Thousand Villagers Demand Accountability for Water Scarcity and Pollution
For Immediate Release
October 4, 2006

Contacts:
Nandlal Master, Lok Samiti (India) +91 98716 02612
Sandeep Pandey, National Alliance of People's Movements (India) +91 94150 22772
Amit Srivastava, India Resource Center (US) +1 415 336 7584 E: info@IndiaResource.org New Delhi (October 4, 2006): Over a thousand villagers protested at Coca-Cola's north India headquarters in Gurgaon today, demanding that the company take immediate actions to clean up its act in India or leave India.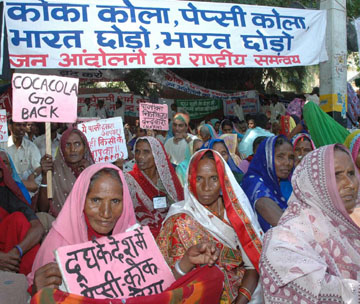 Protest Against Coca-Cola Credit: Sarvesh/India Resource Center

The protest at Coca-Cola's headquarters comes at the end of the "Water Rights Tour", where residents from the village of Mehdiganj in the north Indian state of Uttar Pradesh traveled across the state to raise awareness on the issue of groundwater depletion and pollution by the Coca-Cola company and Pepsico. Close to 1,500 villagers also protested at the Parliament of India in Delhi on Tuesday, demanding that the government take action against the Coca-Cola company and Pepsico. The village of Mehdiganj and surrounding villages have been experiencing severe water shortages since Coca-Cola started bottling operations in the village, and the remaining groundwater and the soil have been polluted as a result of the bottling plant's operations. A recent study of water conditions in eight villages within a 3 kilometer radius of the Coca-Cola bottling plant in Mehdiganj found that the number of wells that had dried up increased seven-fold since Coca-Cola commenced operations in the area, and on an average, the water levels in the wells in the area had dropped 18 feet. The Central Pollution Control Board of India, the primary environmental regulatory agency, has also confirmed high levels of lead, cadmium and chromium in the sludge being produced by the Coca-Cola plant. Most recently, the Coca-Cola company has suffered dramatic loss in sales because of reports that confirm high levels of pesticides in Coca-Cola products in India. "With the pesticides in Coca-Cola products, at least consumers have a choice - they can choose not to drink Coca-Cola. The villagers of Mehdiganj and surrounding villages do not have such a choice. Their water tables are dropping dramatically and their land and water is being polluted, and for them, it is a matter of survival," said Sandeep Pandey of the National Alliance of People's Movements, one of the organizers of the protest. "Access to water is a fundamental human right and the Coca-Cola company is denying this right to thousands of people across India," said Nandlal Master of Lok Samiti, a community organization from Mehdiganj at the forefront of the campaign against Coca-Cola. "We will continue to campaign until people across India can live free of the abuses being perpetrated by these companies." The protesters at Coca-Cola's north India headquarters were met by Mr. Kalyan Ranjan, Senior Manager of Public Affairs & Communication at Coca-Cola India. Visibly nervous, Mr. Ranjan denied any knowledge of the various reports implicating the Coca-Cola company for pollution and water depletion. Mr. Ranjan is also known for making outlandish statements. In February 2006, he announced that there was no campaign against Coca-Cola in Mehdiganj.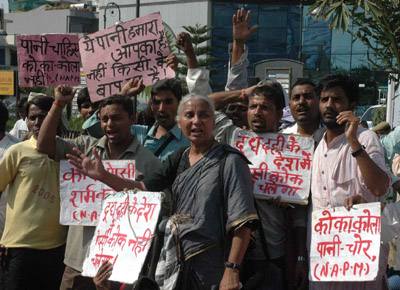 Medha Patkar at Protest Against Coca-Cola Credit: Sarvesh/India Resource Center

"We find it preposterous that even three years after the government of India confirmed the dangerously high levels of cadmium, lead and chromium in its waste, the company claims it knows of no such study. The Coca-Cola company is trying to act above the law in India, and this is not acceptable," said Amit Srivastava of the India Resource Center, an international campaigning organization. Communities in India campaigning against Coca-Cola for creating water shortages and pollution enjoy tremendous support internationally, with close to twenty colleges and universities in the United States and the United Kingdom restricting the sale of Coca-Cola products until the company genuinely addresses the concerns in India. The campaign against Coca-Cola in the United States has just completed a successful speaking tour of six colleges and universities last week, including Fordham University, Wellesley College, Harvard University, Stony Brook University, Brandeis University and Clark University. All these campuses are campaigning to ban Coca-Cola products. A public debate is scheduled with the Coca-Cola company at the University of Minnesota on October 11. The debate is being organized by the student government at the University of Minnesota who have resolved to investigate the issues further. The University of Minnesota has one of the largest campus contracts with the Coca-Cola company in the world, and students are campaigning to cut the contract because of Coca-Cola's abuses in India and around the world. For more information, visit www.IndiaResource.org ---ends---