Home--News

Icon of Anti Coca-Cola Struggle, Mailamma, Passes Away



For Immediate Release
January 7, 2006

Plachimada: It is with great sorrow that we announce that Ms. Mailamma, the leader of the anti-Coca-Cola struggle in Plachimada in Kerala, passed away on January 6, 2007. Mailamma was a central figure in the campaign to hold Coca-Cola accountable for water shortages and pollution in the area, and it was under her leadership that the community forced the Coca-Cola bottling plant to shut down in March 2004. The plant has remained shut down since.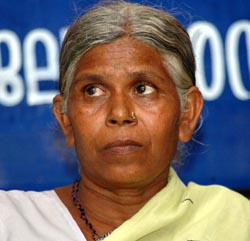 Mailamma

Mailamma, a member of the Eravalar tribe, was a champion of human rights, and she was the founder of the Coca-Cola Virudha Samara Samiti (Anti Coca-Cola Struggle Committee) in Plachimada which has spearheaded the campaign against Coca-Cola. The Anti-Coca-Cola Struggle Committee has held a continuous vigil directly outside Coca-Cola's factory gates since April 22, 2002, demanding its permanent closure. Mailamma was directly affected by Coca-Cola's operations. The water in her well, in Vijaynagar colony in Plachimada in Kerala's Palakkad district, had been so heavily polluted by Coca-Cola's operations that it has been deemed unfit for human consumption. Mailamma was also recognized widely for her leadership, and she was the recipient of the prestigious Speak Out award by the Outlook magazine and the Sthree Shakthi Award (Women's Power Award) in recent years. Mailamma lived with her extended family in Vijaynagar Colony in Plachimada, and is survived by three sons and a daughter.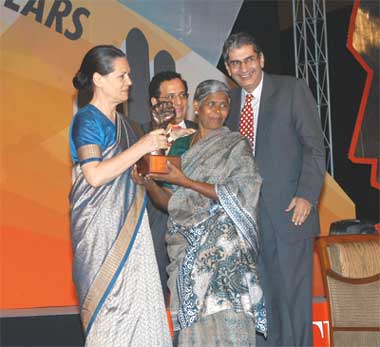 Mailamma receiving award from Sonia Gandhi in 2005

"Her dedication to the struggle for justice was tremendous, and she will be deeply missed," said R. Ajayan of the Plachimada Solidarity Committee, a close ally of Mailamma. "Activists like Mailamma represent the new kind leadership in India, who are the 'organic intellectuals', preparing the ground for the struggle interpreting their own experiences in the larger contexts," said Medha Patkar of the National Alliance of People's Movements. "The image of her etched in my mind's eye is that of a person exuding a strong sense of dignity, poise, calmness and determination, conveying a sense of belongingness with twinkling eyes with her head held high shining hope and confidence on all those who came in contact with her," said C.R. Bijoy of the of the People's Union for Civil Liberties. "Ms. Mailamma is the one person who was always present at the vigil, no matter when we went, and we went numerous times," said Amit Srivastava of the India Resource Center. "Her dedication, commitment and leadership will remain an inspiration to us all." Contact: R. Ajayan, Plachimada Solidarity Committee +91 98471 42513
Amit Srivastava, India Resource Center +91 98103 46161
For more information, visit www.IndiaResource.org ---ends---