Home--News
Coca-Cola Plant Shut Down in India

Community Welcomes Decision, Company Cites "Unbearable" Financial Losses
For Immediate Release
August 14, 2008

Contacts:
Chinta Dewi, Coca-Cola Bhagao, Krishi Bachao Sangharsh Samiti +91 94507 79325 (Hindi)
Nandlal Master, Lok Samiti +91 94153 00520 (Hindi)
Amit Srivastava, India Resource Center +91 98103 46161 (India) +1 415 336 7584 (US) New Delhi (August 14, 2008): The India Resource Center can confirm that the Coca-Cola company has shut down another bottling plant in India - in Sinhachawar in Ballia district in Uttar Pradesh. A community-led campaign had demanded the closure of the Coca-Cola bottling plant in Sinhachawar because of indiscriminate pollution by the bottling plant as well as illegal occupation of land.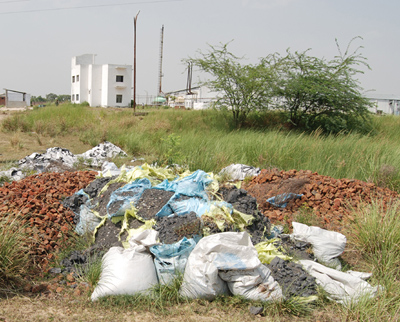 Illegally Dumped Sludge at Sinhachawar Coca-Cola Plant

The India Resource Center had led a fact finding team to the plant in June 2007 and found shocking incidences of pollution that were in complete violation of environmental laws and regulations in India. While the community knew that the plant had been un-operational since the fact finding visit, this is the first official confirmation of the closure. The bottling plant in Sinhachawar was a Coca-Cola franchisee owned unit operated by the Brindavan Bottlers Limited, which is owned by India's largest bottler of Coca-Cola, the Ladhani Group of Companies. In a letter to the Uttar Pradesh Pollution Control Board dated October 27, 2007, Brindavan Bottlers informed the Board about the closure of the plant due to "huge" and "unbearable" financial losses. The letter was dated three days after a major protest at the plant. "We welcome the official closure of the bottling plant which we had demanded. We will now hold Coca-Cola accountable for the damages they have caused in the area because of their negligence," said Mrs. Chinta Dewi, sarpanch (head of the village council) and member of the locally based Coca-Cola Bhagao, Krishi Bachao Sangharsh Samiti (Get Rid of Coke, Save Farming Struggle Committee). Another Coca-Cola bottling plant - in Plachimada in Kerala - has been shut down since March 2004 due to community opposition. "Community campaigns in India have shut down Coca-Cola bottling plants in Plachimada and in Balia, and now we will ensure that Coca-Cola bottling plants in Mehdiganj and Kala Dera also meet the same fate," said Nandlal Master of Lok Samiti, a community group challenging Coca-Cola's operations in Mehdiganj, near Varanasi. Lok Samiti worked very closely with the community in Sinhachawar towards the plant's closure.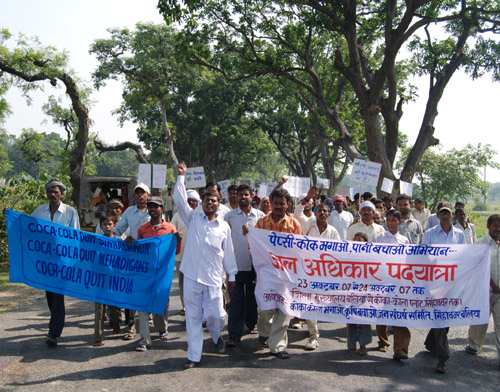 March Towards Coca-Cola Plant in Sinhachawar, October 24, 2007

The Coca-Cola company is also the target of intense community campaigns in Mehdiganj and Kala Dera in India for creating water shortages and pollution. The company was forced to agree to an assessment of its bottling operations in India as a result of a sustained international campaign. The assessment, released in January 2008, was a damning indictment of Coca-Cola's water management practices in India. The assessment recommends that Coca-Cola shut down its bottling plant in Kala Dera because the plant contributes significantly to water shortages in the area. "The Coca-Cola company has chosen to embark on an ambitious public relations drive to paint a green image of itself globally. But Coca-Cola's track record on the ground in India is one of dismal environmental and human rights problems, and no amount of public relations can solve the problems it continues to create in India," said Amit Srivastava of the India Resource Center, an international campaigning organization that works directly with communities in India to challenge Coca-Cola. The fact finding team in June 2007 found several cases of pollution, including:

The bottling plant has indiscriminately dumping its sludge, considered to be industrial hazardous waste, across the plant premises, in complete violation of the laws regarding handling and disposal of industrial hazardous waste in India.
The Effluent Treatment Plant was non-operational, and the bottling plant was discharging its wastewater into surrounding agricultural fields and a canal that feeds into the river Ganges.
The plant did not disclose the amount of hazardous waste being used and generated, as required by the Supreme Court of India for all industrial units in India that deal with hazardous waste.
The full report with images can be found at http://www.indiaresource.org/campaigns/coke/2007/cokebaliafact.html, in Hindi at http://www.indiaresource.org/campaigns/coke/2007/baliahindireport.pdf For more information, visit www.IndiaResource.org ---ends---