Home--Press

Groups Challenge Coca-Cola's Human Rights, Environmental and Labor Crimes at AGM



For Immediate Release
April 21, 2004

Contacts:
Amit Srivastava, Global Resistance +1 415 336 7584, E: info(AT)IndiaResource.org
Ray Rogers, Campaign to Stop Killer Coke +1 212 979 8320 E: stopkillercoke(AT)aol.com April 21, 2004: Groups concerned with the negative human rights, environmental and labor records of Coca-Cola confronted the company's shareholders and management today at Coca-Cola's shareholder meeting held in Wilmington, Delaware. They accuse Coca-Cola of complicity in murder in Colombia, depriving communities of drinking water in India, and polluting water and land.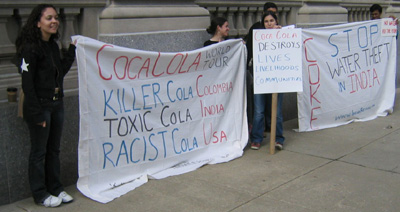 Protesters at Coca-Cola AGM Photo: Aaron Couch

Just a day ago, on April 20, two members of a trade union organizer's family in Colombia were killed by paramilitaries. The trade union, SINALTRAINAL, organizes workers in Coca-Cola's bottling facilities in Colombia, and union leaders have been subject to a gruesome cycle of violence - including murder, torture and kidnapping - unleashed by Colombian paramilitary forces, in complicity with Coca-Cola's Colombian bottling subsidiary. Earth Day, on April 22, 2004, also marks the second anniversary of a community vigil held outside the gates of Coca-Cola's largest bottling facility in India- in Plachimada, Kerala. Communities living around Coca-Cola's bottling plants in India have been experiencing severe water shortages as well as polluted groundwater as a result of Coca-Cola's operations in the area. These problems are not isolated to one particular plant or area, but is a pattern that has emerged from Coca-Cola's operations in India. Thousands of people are being affected by the water shortage and pollution caused by Coca-Cola, and the company is the target of strong and growing grassroots movements in many areas of India, including Plachimada, Mehdiganj and Sivaganga.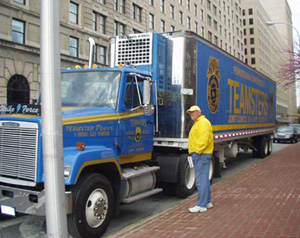 Teamsters Truck at Coca-Cola AGM Photo: KillerCoke.org

Shareholders arriving at the meeting were met by a colorful display of banners, posters and leaflets highlighting the serious concerns and demanding Coca-Cola's action. Banners included "Coca-Cola: Stop Water Theft in India" and "Coke World Tour: Killer Cola - Colombia, Toxic Cola - India, Racist Cola - USA". Ray Rogers, director of the Campaign to Stop Killer Coke, also spoke inside the shareholders meeting, stating that the company was "ripe with immorality". Rogers, 60, was forcibly removed from the floor by four armed security before he could finish his statement in full. "The fact that they resorted to violence to remove Mr. Rogers from the floor is business as usual for Coca-Cola. It uses brute force and considers itself above the law in places like Colombia and India to gets its way," stated Amit Srivastava of Global Resistance, one of the co-organizers. The protesters were also joined by a large truck and members from the Teamsters union, one of the largest unions in the world, who have recently gone on strike in a Philadelphia plant. Organizers of the event said they were committed to holding Coca-Cola accountable for its crimes and that they would continue to confront Coca-Cola in demanding that the company meet the demands of the communities in Colombia and India. For more information, visit www.IndiaResource.org and www.KillerCoke.org Images from the protest are available upon request. -ends-