There is a potential market of 665 million consumers waiting to be tapped. A quarter of the Indian people in urban areas and three quarters of the people in rural areas do not use soap every day, according to estimates by the World Bank's Water and Sanitation Program. Voila! Indians are gifted two international aid projects in as many years, telling them to wash their hands with soap.

First came the Kerala 'Health in Your Hands' project, launched amidst much fanfare in January 2001. And who should have tried to bridge the gap between hygiene and health - with soap - but the World Bank, with the London School of Hygiene and Tropical Medicine (LSHTM), the Kerala Government, and lo and behold, Hindustan Lever Limited, subsidiary of multinational giant Unilever. The project soon ran into slippery ground, teetering between angry protests and undecided authorities, till it finally fell apart on 12th August 2003 when the Kerala Government opted out. What had raised the hackles of activists and residents alike is that the whole idea appeared to be more about selling soap rather than sanitation.

But before we could finish saying soap, along came WASH, launched in June 2003 - another project telling Indians that washing hands with soap is a panacea for almost all ills. WASH is brought to us by the Water Supply and Sanitation Collaborative Council (WSSCC), Geneva which comprises UN agencies like UNICEF, UNDP and UN HABITAT, the World Health Organization (WHO), the Asian Development Bank (ADB), the governments of India, Senegal, South Africa, Uganda etc., NGOs and private sector partners like Suez and Vivendi. And yes, the World Bank is a member too, as is the LSHTM.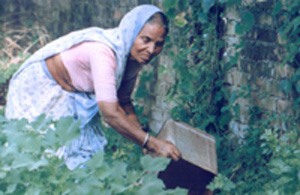 'Night Soil Worker' -- Woman discarding human excreta in India
In a rather simplistic analysis, Sir Richard Jolly of the WSCCC declares, "Lack of sanitation is the cause for more than three quarters of diseases world-wide. If people could wash hands properly, most of these deaths could be under control."
The statistics are frightening enough to warrant immediate action. At any one time, more than half the poor of the developing world are ill from causes related to poor hygiene, sanitation and water supply. Diarrheal disease alone kills 6,000 children every day. The majority of illnesses in the world are caused by fecal matter. One gram of fecal matter can contain 10 million viruses, one million bacteria, 1,000 parasite cysts, and 100 worm eggs. In most developing countries only about 1-2% of the government spending goes to low cost water and sanitation.
Partnering with Sulabh International in India, WASH is the brand name for advocacy on Water, Sanitation and Hygiene. WASH's chief thrust and visible interface is the same as the Kerala program: wash your hands and rid your country of most of its ills. In mid-June this year, an extravagant launch function in New Delhi was graced by the likes of Ravi Shankar Prasad, the Minister for Information and Broadcasting, and happening model Katrina Kaif did the honors of a handwash demonstration. As we prepare ourselves for one more expensive exercise in marketing what is essentially a traditional practice in most cultures including ours, we must ask whether 'Handwash' is eyewash that obliterates real concerns.
The obfuscation of issues is sophisticated. The document "For Media Professionals: A Guide to Investigating One of the Biggest Scandals of the Last 50 Years", published by the WSSCC, has a media checklist for evaluating government efforts to meet the sanitation and hygiene challenge. Question 3 urges journalists to ask, "Is there a plan to promote not just a few pilot projects but water and sanitation for everyone - with a budget and a timetable?" Gourishankar Ghosh, Executive Director of WSSCC, who was in India to launch the Sulabh WASH campaign, is equally emphatic, "Why hasn't it happened? Why after fifty years of promises do a hundred million people live in slums and shantytowns and still defecate in the open air or in plastic bags? Why does fecal matter still contaminate water, food, hands, homes, so that infection and disease are everywhere?" It is such a forceful argument that we wait for an equally impressive answer.
But the thrust of the interventions seems far from tackling basic issues.
Spreading Sanitation or Selling Soap?
India is not the first country for eyewash by soap companies. The "Health in Your Hands" model was also implemented in Ghana in West Africa. Other places where similar projects were introduced were Guatemala and El Salvador in Central America. In all these, multinational soap companies were partners. The program paved the way for giant soap manufacturers to become involved in a marketing and communication program to promote soap.
Dr. Valerie Curtis of LSHTM, one of the leading agencies for the initiative, claims that handwashing with soap could save a million lives a year. "The soap industry might be doing more than the Ministry of Health to save lives in India. Soap is probably one of the most important health products ever invented. Soap, when used to wash hands, prevents the transmission of the killer agents of disease and so prevents infection and death." The publication of an article co-authored by Curtis in the May 2003 issue of reputed medical journal Lancet, does lend legitimacy to this viewpoint, but the acknowledgement that the researchers received a grant from Unilever Research Limited, strains credulity about the objectivity of the research.
Had the Kerala project gone as planned, extending the initiative to four states over three years would have cost an estimated US$ 41 million, according to a Hindustan Lever marketing and communication plan presented in Washington in May 2001 at a brainstorming meeting of the Global Public-Private Partnership to Promote Handwashing initiative, held during the World Bank Workshop on Public-Private Partnerships for Community Water Supply and Sanitation.
Representatives of the private sector (Unilever and Colgate-Palmolive) and from the World Bank's Business Partnership Outreach Group were present to speak about public-private partnerships and to discuss the handwashing campaign. Government officials from India and Ghana explained current soap usage and coverage as well as the socio-political contexts of the pilot countries. Hindustan Lever of India and Colgate-Palmolive outlined possible collaborations with the public sector to promote handwashing, referring to past experiences and market studies.
The BASICS (Basic Support for Institutionalizing Child Survival) group, which had carried out a handwashing campaign in Central America offered a model from their experiences since 1996. Interim results from the EHP (Environmental Health Project)/BASICS handwashing initiative in Central America showed that handwashing before eating increased among mothers by 18 %, among fathers by 13 % and among children by 10 %. In Guatemala, where Colgate Palmolive was involved in the handwashing campaign, the Ministry of Health is establishing a Hygiene Promotion Office to increase its momentum over the next few years. In El Salvador, Unilever supported the campaign.
"Recognizing the potential impact of hand washing with soap on diarrheal diseases, the aim of the Kerala 'Health in your Hands' program is (now 'was') to double the rate of hand washing with soap by 2005 (i.e. over three years) and develop a model intervention that can thereafter be sustainable scaled-up nationally," say researchers Beth Scott, Val Curtis, Tamer Rabie in a paper titled "What Motivates Handwashing in Kerala? A Re-Analysis of the Formative Research Data" published by the Indian Market Research Bureau with the PPPHW Team(March/ April 2003). The program attempted to make a shift from concentrating on sanitation infrastructure development to hygiene behaviors. It aimed to "enhance demand for soap and handwash practice" and will consist of:
A state-of-the-art, private sector designed, tested and implemented non-branded program of mass media communications to reach 70% of the 27 million strong rural population, focusing on messages to promote hand washing after contact with stools and before handling food, particularly among primary child carers.
A local level direct contact communications campaign driven by local government in all 991 gram panchayats (village councils).
Sanitation: The Genuine Issues
What are the real concerns? Lack of access to safe water, pumping of sewage and effluents into water sources, unsanitary living conditions in extended slums, open drainage systems outside most city limits, lack of access to toilets resulting in open defecation by an overwhelming majority of the population and human scavenging which has still not been eradicated despite legislation banning it. So can washing hands really be the miracle remedy it is touted to be? Sandy Cairncross, Technical Director and Professor of Environmental Health at the London School of Hygiene and Tropical Medicine, advisors to the Kerala 'Health in Your Hands' Program says, "In general, I would agree with you that promoting hand washing on its own does not address the very serious issues of water shortage and poor sanitation, and I am sure that all of us devoutly wish that such problems could be solved across the board. In the real world, however, we may have to wait for many years yet for the water supply and sanitation problems of India to be fully resolved. Meanwhile, there is good evidence that, even in the absence of changes in water supply and sanitation, there are steps (such as hand washing) which even very poor people can take, to protect their health and their children's health to a significant degree. I believe that empowering them to do that, with or without infrastructure, is worthwhile."
The international NGO bureaucracy refuses to acknowledge that a majority of people does not have access to safe water. To quote from the WSSCC literature, "Myth: The problem is shortage of water. Not true. Most cities where large numbers of people live without taps and toilets are cities with plentiful water supplies. And in cities with water shortages, there are rarely any restrictions on water use for the rich." There is no mention of purchased tanker supplies, a cost the poor are unable to meet, and therefore live without. In Chennai, as in most Indian metropolises, piped water supply is a question of access and affordability. Sample this : "Myth : the problem is that people are too poor to pay. Not usually true. Millions of poor people can and do pay for water and sanitation, and many low-income communities have made good progress using their own resources." Elsewhere, the same document throws considerable light on large-scale open defecation by the 'devastatingly poor' who have no viable access to proper sanitation.
Diarrhea is Costly!
Toilet Talk, a publication of the National Slum Dwellers Federation Mahila Milan and Society for Promotion of Area Resource Centres (SPARC) in India says, "Middle class people, urban planners and city administrators all tend to see the poor as freeloaders, complain about the poor getting free amenities which everybody else has to pay for, and deplore this drain on the city's resources with great righteousness. But when women in pavement settlements spoke about their daily expenses, a very different picture emerged. Without their own water taps, every drop their families drank or washed with had to be paid for, at a premium, and carried bucket by bucket, from far-flung sources. And without toilets, they had to queue for hours and pay dearly for the privilege of using the smelly loo of some shopkeeper or building watchman who saw a profit in nature's most basic need. For a family of five or six members, each with the ordinary human digestive patterns, the daily toilet budget could go up to Rs 12 (25 cents), which is substantial sum of money for a daily wage earner. Conditions like these are behind an ironic joke still making the rounds of Mumbai's pavement settlements, which quips that the poor are the only ones who can't AFFORD to get diarrhea."
Consider these facts:
One flush of the toilet uses more water than an average person in the developing world uses for the whole day's washing, cleaning, cooking and drinking.
An average person in the developing world uses 10 liters of water a day.
An average person in the United Kingdom uses 135 liters of water every day.

(Source : Sulabh WASH campaign)
At a WASH workshop for South Asian journalists held recently in Hyderabad, Gourishankar Ghosh was asked, "When, in Chennai, women in slums wait in queues for hours to get a pitiable and erratic supply of drinking water, how could they be expected to find water for frequent hand washes for the whole family?" To this he replied that other technologies were available (for instance, the rubbing of the palms with a few drops of a particular chemical which has been tested successfully elsewhere). Yet, neither the 'Health in Your Hands' nor the WASH campaigns talk about or promote waterless solutions.
The Price of Eyewash
This public relations exercise in promoting soap for washing hands does not come free. According to Parameswaran Iyer of the World Bank's Water and Sanitation Program, the estimated cost of the communications campaign in Kerala alone is Rs100 million (about US $ 2.1 million).
But it is likely to be money well-spent. Hindustan Lever limited (HLL) is the largest FMCG (Fast Moving Consumer Goods) company in the country, with a turnover of Rs118 billion (about US $ 2.5 billion). It has dominant shares in the detergent and toilet soap industry with a market share of 60% and 40% respectively. But HLL's once fast moving businesses are gradually declining. Last year, for instance, the soaps business fell by 1% and detergent sales grew by just 7%. What does a giant 10 times bigger than its nearest competitor do to beat the protracted slump in its sales? HLL is facing such a dilemma. The company has expanded the installed capacity of soaps during the year 2001-02 by 5822 tons taking the total capacity to 219416 tons.
The projection of market-expansion as a social service makes sound business sense. In a presentation at a seminar on Home, Hygiene and the Prevention of Infectious Diseases in Developing Countries, Y.Jain of Hindustan Lever, Mumbai, says "The 20th century has seen many concerted efforts against various global scourges - it is now time to target diarrhea. The consumers' habit of not washing hands with soap is deeply entrenched. Triggering habit change would require large-scale media investment. This task is beyond the capacity of individual toilet soap manufacturers. Therefore, manufacturers cannot be expected to act on their own, especially in pursuing educational campaigns where there is no explicit linkage with the brands they are currently selling." According to Jain, the key partners and their roles are:
Government: access to existing health, social welfare and educational infrastructure.
Private sector: expertise in communication and marketing.
Academic institutions: program design and monitoring.
Development agencies: technical expertise and donor funds.
This looks seriously like a case of brand promotion sans any expenditure.
No Soap Without Lather
To begin with, why Kerala for a pilot program on washing hands for hygiene? With the lowest childhood mortality, highest female literacy, hygiene standards and access to safe water, Kerala is a role model, not an ailing test ground. Magsaysay-award winner and a world-renowned crusader for low-cost community-based healthcare, Zafrullah Chowdhury of Bangladesh, was reported (The Hindu, Kochi, November 22, 2002) as being flabbergasted at the very idea of the scheme, and declared that it was a ploy by the multinational soap companies to market their products. Their intention, he felt, was to snuff out competition from local soap companies. Chowdhury is reported as saying, "It shows the arrogance and obstinacy of the World Bank and the multinational companies."
If activists were offended, the local population was even more so. From using coconut fibers as body scrubbers to turmeric and gram flour as cleansers with antiseptic properties, there is a long list of indigenous remedies for matters related to hygiene. There are also several Indian soap manufacturers competing for the same market, including small scale and cottage industries, soap production schemes initiated by women's micro-credit groups and village-level home industries. While the World Bank papers regret the lack of participation from other manufacturers of soap, they fail to throw light on why more enterprises did not come forward and whether a level playing field existed.
The report of a market research study titled "The Global Market for Soaps", conducted by the London School of Hygiene and Tropical Medicine as a prelude to the Kerala project says, "Handwashing promotion will grow the market for soaps by both by increasing consumption and by introducing new customers." Further, "The world market for soaps and NSDs (Non Soapy Detergents) was worth US$88 billion in 2000 having grown by 29% since 1996....The market for soap products is largely mature in developed markets and displays stagnant growth. The growth potential in developing countries is huge, but there are many obstacles to expansion....Unilever is the world's number one company in terms of advertising expenditure....The largest soaps and detergents only company, by volume sales, is the Unilever Group which has a strong presence in all the regional markets of the world....The top ten leading manufacturers and distributors of soaps worldwide account for more than 55% of total sales by value in 1999, totaling in excess of US$ 80 billion." Elsewhere, "If the PPP (Public Private Partnership) initiative increased awareness of the need for personal hygiene, that would change not only handwashing behavior but would also lead to more frequent body washing and other good personal hygiene practices, expanding sales and increasing profits for manufacturers."
The stakes, then, are high. A study by the Kerala Sashtra Sahitya Parishad (People's Science Forum) says the annual profit of Hindustan Lever Ltd alone for a tiny state like Kerala is about Rs 12000 million (US $ 250 million). The aggressive marketing strategy followed by the MNCs and Indian companies have systematically destroyed a vibrant and locally self-sufficient small-scale detergent and soap industry that had come about after independence and was meeting the needs of the local populace in many parts of the country.
While the Kerala program has been called off, others like WASH have just been launched. There is a need for vigilance and pressure by the media and the public to see through the eyewash by the government, MNCs and international agencies.