Home--Press

Over 500 March to Condemn Violence at Coca-Cola Protest in Mehdiganj


For Immediate Release
January 7, 2005

Contacts:
Nandlal Master, Lok Samiti (Hindi only) +91 94153 00520 (Translations can be arranged by contacting Amit Srivastava)
Amit Srivastava, India Resource Center +1 415 336 7584 (US) Mehdiganj, India (January 7, 2005):: Over 500 community residents from Mehdiganj and surrounding villages marched towards the gates of Coca-Cola's bottling plant in Mehdiganj on January 6, 2005. Protesters marched with their mouths covered by black ribbons and their hands tied to specifically bring attention to the non-violent nature of the community-led campaign, and to protest the outrageous charges that have been brought against some of the marchers in the protest against the Coca-Cola bottling plant on November 24.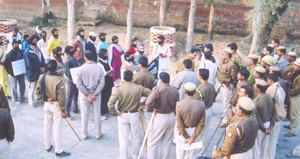 Rally at Mehdiganj Photo:Lok Samiti

In an attempt to slow down the formidable campaign, some key leaders have been charged with serious charges including attempted arson. The march came to a halt 300 meters before the gates of the factory, being stopped by about 100 policemen. The peaceful protesters were unarmed and in complete silence. However they did not get a chance to protest directly in front of the company because they were stopped before getting to the gates of the factory. "While a big multinational like the Coca-Cola company makes many attempts to stop the non-violent people's movement, the people of Mehdiganj will not give up their struggle," said Nandlal Master of Lok Samiti, one of the key organizers of the march. "We came to protest against the arrests and lathi-charge that took place on November 24, 2004."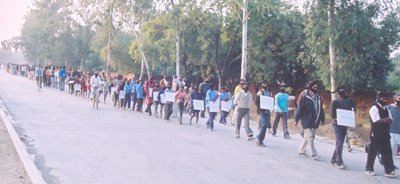 Rally at Mehdiganj Photo:Lok Samiti

Over 1,500 people participated in the march and rally against Coca-Cola on November 24, 2004 in Mehdiganj, near the holy city of Varanasi. 350 people were detained after a violent attack by police on the peaceful protesters. On December 20, 2004, another protest was held in front of the Vidhan Sabha in Lucknow, the capital of the state of Uttar Pradesh. The Lok Samiti movement, National Alliance of People's Movements (NAPM) members, Dr. Sandeep Pandey and various organizations from Varanasi, Lucknow, Sultanpur, Ghazipur, Ballia as well as people from abroad joined the program. They condemned the arrests and lathi charge that occurred on the 24th of November. Medha Patkar also participated and gave her fullest support to the people of Mehdiganj and their ongoing struggle against the Coca-Cola company to save their water. Further actions are planned. Supporters of the campaign are advised to send a fax to Coca-Cola by visiting http://www.IndiaResource.org/action/faxcoke.php For more information, visit www.IndiaResource.org --ENDS--